Envelope gaskets are produced with pure PTFE with a thickness of 0.5 mm. Envelope gaskets have become popular for their special features that enables them to be is used in severely corrosive services, excellent creep resistance and high deformability. The PTFE makes the envelope gasket suitable for use in the chemical, pharmaceutical and food industry.

PTFE Envelope Gasket is of two types:
1. Slit Type
2. Milled Type
Slit type Envelope: Slit type envelopes can be of different sizes according to the application and the customer's requirements. The gasket outer dimension normally rests within the bolt hole circle and the internal dimension is approximately equal to the nominal internal dimension of pipe. It resists sudden changes of temperature and possesses excellent dielectric characteristics that widens up its scope of application in varied industries. It is tailor made as per requirements of customers.
PTFE Envelope Gasket are two type:
Slitted Type : It is available in 0.5 mm to 0.5 mm thick or thickness as per customer requirement.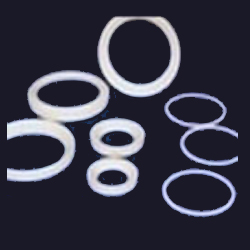 PTFE Ring Gasket:
We are one of the leading manufacturers of a wide range of PTFE Ring Gasket. PTFE, compared with other plastics, has superior properties against chemicals and temperature. The PTFE ring & gasket offered by us is highly admired by all our clients due to their high reliability as well as durability. These ring joint gaskets are especially designed to withstand exceptionally high assembly loads over a small area, thus producing high seating stresses.





Milled type Envelope:
Milled type envelope assures optimum performance on any specific application. They have become popular for use in severely corrosive services. The inner dimension of the envelope fits flush with pipe bore and the outer dimension rests within the bolts. It is also known as U type envelope. It has excellent property of resistance to acids which protects the inserts.

Applications of PTFE Envelopes:
PTFE Envelopes finds numerous applications in stainless steel reactors, piping services, smalted vessel, Pharmaceutical, Anti-Buildup, tank, columns, flanges and glass lined reaction vessels.